Old School, Blue Collar Shop

At Oyler's Speed Shop we work on 1972 and older American cars, trucks and build fully custom motorcycles called Oyler Custom Cycles.
We specialize in:
-Automotive- Full Restoration, Engine repair, Carb tuning and rebuilding, Wiring, Brake system repairs and upgrades, Fiberglass work, Interior repair & restoration, Custom audio and Suspension repair and upgrades.
-Motorcycle- Full build, Fabrication of custom- Gas tanks, oil tanks, fenders, springer front ends, frames and seat pans. Custom Tooled Leather seats.
-Custom Metal work
-Stainless Steal Trim Repair and Restoration
-Full Custom Upholstery
-Full detailing of classic cars and Motorcycles
We would love to list everything we do and work on at the shop but we can't. We love working on and helping keep classic American cars & trucks on the road. We love building custom hand-made choppers. inside of those two worlds we do almost every range of service. We will build you a perfect set of handle bars or pipes for your bike. We will help you with a wiring problem you have on your totally stock classic T-Bird. Or go all the way the other side and we would love to build you a crazy 1,300 HP Falcon for the drag strip, custom build you a magazine quality custom Motorcycle. the point is, if you have a bike and want parts custom made, have a classic American 1972 or older car that needs work, give us a call. If we can't help we will find a place that can.
Let us help you get your dream ride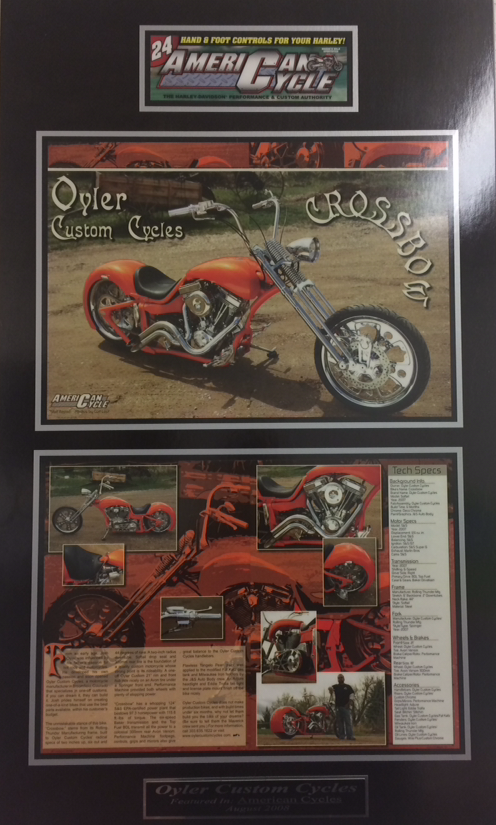 About the Owner:
Oyler's Speed Shop was started by owner, Josh "Frankenstein" Oyler. Josh has always loved and been around Hot Rods and Motorcycles. Owning over 22 cars and bikes before he was 30 he has always wanted to help others with their dream of owning a wicked custom. Josh has built cars from crazy 400Hp 2.0L all the way to Blown V8 American Muscle. Josh has written stories in magazines about Kustom Kulture talking about the world of custom and how the Chopper and Hot Rod world live together. Many of the bikes Josh has designed and built have been featured in national magazines over the years. Including the Crossbow (right) Josh has spent years learning the right way to work on cars and bikes to maintain the function but increase power and beauty.
Josh working on his almost 800HP. Chevelle at only 17 years old.
He has always had a lust for things that go fast and trying to see how to make them faster, better and cooler. Below are some photos of his '55 Chevy with a 396, Tig welding a custom mount and one of Josh sitting on top of one of his favorite bikes, The Crossbow. For over 20 years Josh has been learning and working on these great cars and bikes, living the Hot Rodder lifestyle. Every project in the speed shop is overseen by Josh. Every build has his style and flash. From thinking outside the box to solve a structure problem to tuning a blown SBC. Josh also makes sure every person that works at the shop continues his view of quality and custom. You can trust everyone at the speed shop is educated on how to safely and accurately modify your Hot Rod or Chopper.